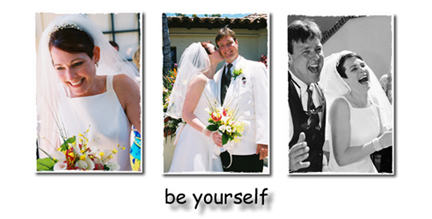 Our Vision - Artistic Storytelling
What do you want from your photographer? An ongoing fashion shoot or a documentary of your wedding day?
Our approach to photographing your wedding is as a silent observer and documentarian. With the exception of the posed groups that you specify, a session typically lasting around 20 minutes after the ceremony, we stand back to capture the moments as they happen naturally, with no involvement, prompting or interference from the photographer. You are free to enjoy your wedding day with family and friends without a photographer "in your face" all the time. We also capture all the little "scene setter" details that make each wedding so special. We then work with you to create a custom storytelling album of your wedding day.
The Beauty of Life Captured
People change when a camera is pointed at them; they put on their "photo faces" and lose their spontaneity and personality. In other words, they are no longer "real." Everyone treasures those "captured moments" when even your own vacation photos reveal your family and friends just being themselves. From my first wedding I have photographed in a "journalistic" style. It always made sense to me to capture the event as it happened with all the real expressions of love and friendship rather than try to control and pose the emotions as defined only in the mind of the photographer. In wedding photography, this approach has been broadly labeled as "wedding photojournalism" but that is really just the beginning or the "first act," so to speak. Our approach to photographing your wedding then evolves onward to include you, as our creative partners, designing and producing a custom storytelling album of your wedding day. We don't "package" our photography services with time limits or shot lists or "cookie cutter" your album design. Each of our clients receives my personal attention working directly with then to create their perfect and individual album presentation.
I have built my business of over 18 years on referrals only. We do virtually no advertising so we value each client and do our utmost to fulfill your expectations of us.
Thank you for your consideration.
Rosen and Associates
Our Coverage and Fees
We do not limit you to the typical hourly packages and add-ons so prevalent in our business. We prefer to design our services around your needs, not the other way around. For example, an intimate luncheon wedding may certainly include a smaller album presentation and the coverage fee will reflect that. Our fees are based on a Creation Fee for our time and services and an Album Design Credit for your album(s).
Please contact us for detailed pricing for myself and my associate photographers.
Services Include
Our Creation Fee includes unlimited time and unlimited number of images. Our storytelling is based on your time line.
Unlimited PRE and POST wedding consultations.
A collage page of your wedding images on RickRosen.com.
A personal proofing web site for a year, password protected, with online ordering capability, to share your wedding with family and friends.
All your original images are included with a copyright release for personal use. They are available after the wedding.
A complete set of 4x6 first quality presentation proof prints in a display box.
Travel out of So. CA is based on actual expenses only with no charge for personal travel time.
No overtime charges, location fees or other add-on or hidden costs ever!
Our Albums
Our albums are custom designed with direct input from our clients.
Our average storytelling album includes 50-60 pages with 100-125 images.
Our wedding albums are of the highest quality -- Leather Craftsmen, premium leathers, hand-made and library bound.
Classic matted albums with gallery prints and digital collage albums are available.
Home